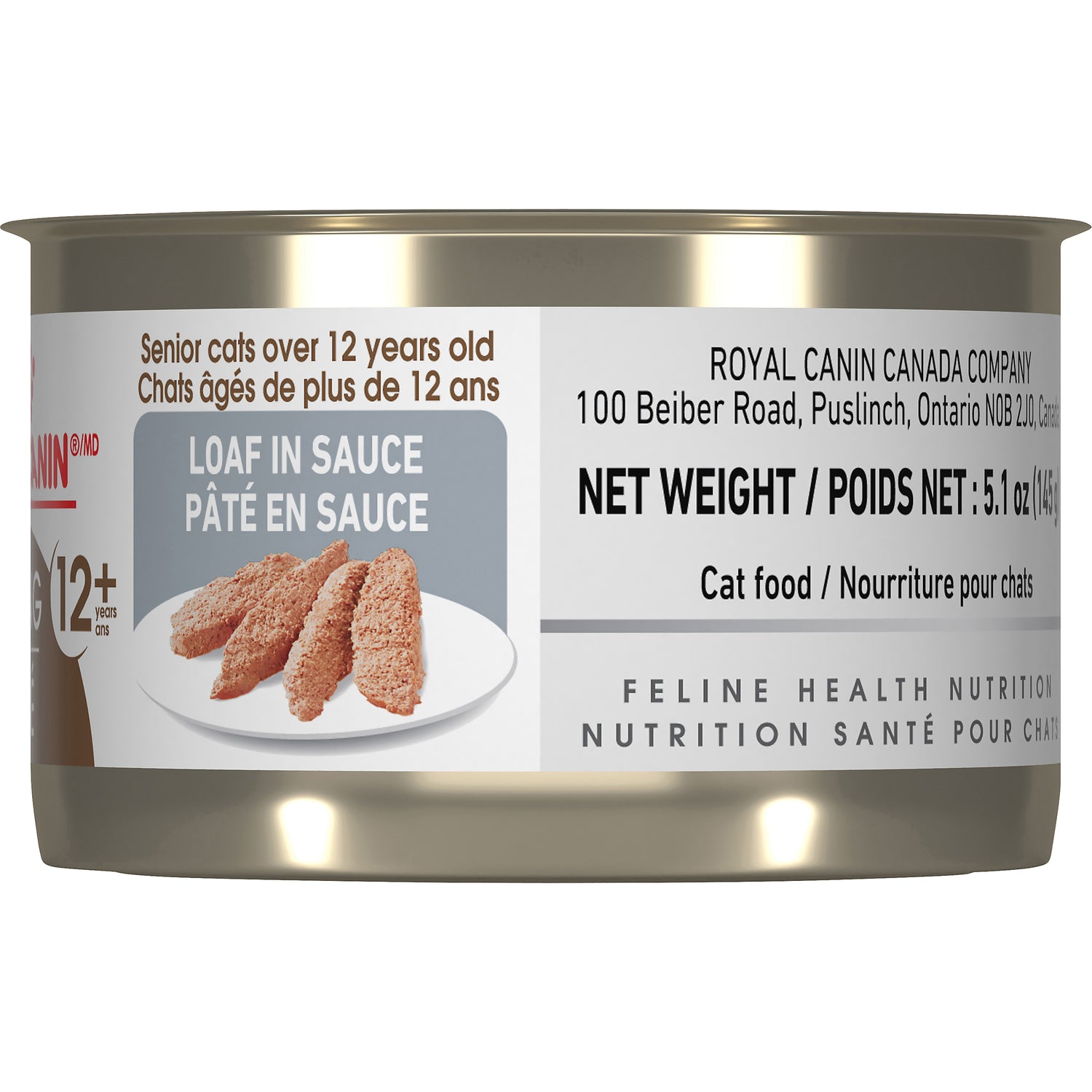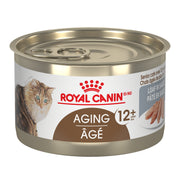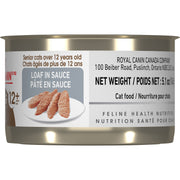 Royal Canin® Feline Health Nutrition™ Aging 12+ Loaf In Sauce Canned Cat Food
Regular price
Sale price
$95.76
Unit price
per
AGING 12+ loaf in sauce supports these signs of aging through precise nutrition for cats over 12 years of age.
At around 12 years of age, the aging process begins to accelerate and the signs of aging may now become more apparent.
As a cat continues to age, the visible signs of aging may become more apparent, such as painful joints. AGING 12+ helps support the delicate joints of an aging cat through high levels of EPA and DHA anti-inflammatory omega 3s, along with beneficial glucosamine and chondroitin.
Declining kidney function is one of the most common issues affecting aging cats. AGING 12+ is formulated with a controlled phosphorous content, along with EPA and DHA to help support aging kidneys and maintain healthy kidney function.
Tender loaf in sauce is easier on the sensitive teeth and gums of older cats.
AGING 12+ features a proven Macro Nutrient profile that is preferred by adult cats. This profile represents the ratio of energy derived from proteins, fats, and carbohydrates. A Macro Nutrient Profile also influences long term palatability and dietary satisfaction. A cat's specific Macro Nutrient Profile varies not only according to its age, but also the cat's physiological condition.
Wet Feeding
| Weight | Inactive | Normal | Active |
| --- | --- | --- | --- |
| 6.6 lb (3 kg) | 1 can (145 g) | 1 1/4 cans (180 g) | 1 1/2 cans (215 g) |
| 8.8 lb (4 kg) | 1 1/4 cans (175 g) | 1 1/2 cans (220 g) | 1 3/4 cans (265 g) |
| 11 lb (5 kg) | 1 1/2 cans (205 g) | 1 3/4 cans (255 g) | 2 1/4 cans (310 g) |
| 13 lb (6 kg) | 1 1/2 cans (235 g) | 2 cans (290 g) | 2 1/2 cans (350 g) |
| 15 lb (7 kg) | 1 3/4 cans (260 g) | 2 1/4 cans (325 g) | 2 3/4 cans (390 g) |
| 18 lb (8 kg) | 2 cans (285 g) | 2 1/2 cans (360 g) | 3 cans (430 g) |
| 20 lb (9 kg) | 2 1/4 cans (310 g) | 2 3/4 cans (390 g) | 3 1/4 cans (465 g) |
| 22 lb (10 kg) | 2 1/4 cans (335 g) | 3 cans (420 g) | 3 1/2 cans (505 g) |
Mixed Feeding
| Weight | Cans | Low Activity | Medium Activity | High Activity |
| --- | --- | --- | --- | --- |
| 4.4 lb (2 kg) | 1/4 Can + | 1/8 cup (16 g) | 1/4 cup (23 g) | 1/4 cup (29 g) |
| 6.6 lb (3 kg) | 1/2 Can + | 1/8 cup (16 g) | 1/4 cup (25 g) | 1/4 cup (33 g) |
| 8.8 lb (4 kg) | 1/2 Can + | 1/4 cup (24 g) | 3/8 cup (34 g) | 3/8 cup (44 g) |
| 11 lb (5 kg) | 1/2 Can + | 1/4 cup (31 g) | 3/8 cup (43 g) | 1/2 cup (55 g) |
| 13.2 lb (6 kg) | 1 Can + | 1/4 cup (21 g) | 3/8 cup (34 g) | 1/2 cup (48 g) |
| 15.4 lb (7 kg) | 1 Can + | 1/4 cup (27 g) | 3/8 cup (42 g) | 1/2 cup (57 g) |
| 18 lb (8 kg) | 1 Can + | 1/4 cup (33 g) | 1/2 cup (50 g) | 5/8 cup (66 g) |
| 20 lb (9 kg) | 1 Can + | 3/8 cup (39 g) | 1/2 cup (57 g) | 3/4 cup (75 g) |
| 22 lb (10 kg) | 1 Can + | 3/8 cup (44 g) | 5/8 cup (64 g) | 3/4 cup (83 g) |